Detectiepoort Garrett MS3500 voor buitengebruik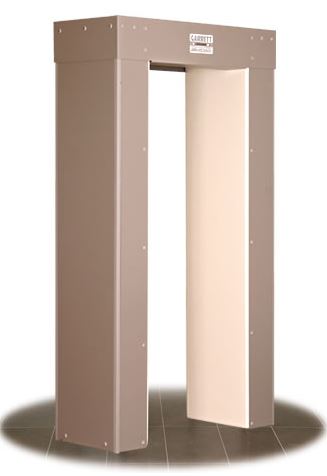 Specifications
Temperatures
Operating: -4° F (-20° C) to +140° F (60° C)
Humidity to 95% non condensing
Storage: -40° F (-40° C) to 158° F (70° C)
Power
Fully automatic 100 to 240 VAC, 50 or 60 Hertz, 14 watts; no rewiring, switching or adjustments required. Power supply meets UL, CSA, TUV and VDE standards.
Weatherproofing / Foreign Object Protection Standards
Meets IP 55, IEC Standard. "Degrees of Protection provided by Enclosures," IEC 529.
Interference Suppression
100% sensor coil Faraday shielding; special Garrett built-in circuitry for noise suppression and ignoring x-ray monitor.
Synchronization
Multiple channels permit several MS 3500s and other Garrett detectors to operate simultaneously in close proximity.
Alarms
Ready light indicates unit is operational; alarm light and audible alarm are activated when the target amount of metal is detected; LED bar graph indicates amplitude of alarm signal.
Tamper-Proof
Dual-level access codes required to set or change all sensitivity settings and detection programs; one level for use by supervisors in selecting programs and sensitivity and the other for initial set-up and overall control; non-resettable sequence code logs all changes made whenever sensitivity codes are accessed. An audible alarm reports unauthorized attempts at access.
Vandal Resistant Construction
All wiring protected by lockable cabinet. Access control panel may be positioned for easy viewing or locked in cabinet to prevent tampering.
Construction
Rugged, heavy duty 3/32" armor aluminum plates with resilient corner caps for protection against maximum abuse. Construction design provides the unit with maximum installation stability as well as weather tight operation.
Sequence Log
A non-resettable counter that indicates the number of attempts to access the MS 3500's adjustment menu.
Control Outputs
Solid state switches (low voltage AC or DC) for operating external alarms and control devices.
Masking
Programs designed to eliminate the problem of dissimilar targets canceling each other.
Warranty
Limited 24 months, parts and labor